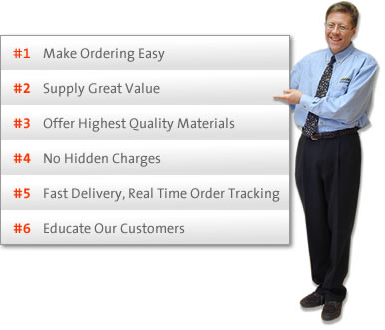 1.
Make it Easy. There are no extra charges for logos, set-up or barcodes. Our web site is free. Yet, even the best web site technology fails if the user experience disappoints. Ordering an asset tag should require neither patience nor design skills, just simple answers to simple questions with the designs built in. Just try our online wizard and see if you agree!
2.
Highest Quality Materials. There are too many low-cost asset labels in the market. Our materials are top notch.In particular, I am biased towards our AlumiTags™. These metal asset tags outlast all others. The print is embedded within the pores of the aluminum. Your asset tags are the tangible proof of a thoughtful and comprehensive asset management system. Management and installation costs are significant. So, why scrimp on your tags? They are the tangible proof of your program. AlumiTags™ lead the industry for good reason.
3.
Create a Learning Environment. We know that a smart customer is a good customer. The more you know about asset tags, the design options and the materials and adhesives – the better! With our online help, our tutorials and our hints, you can easily become a true "Asset Tag Expert."
4.
Offer Generation-Ahead Technology. Our award-winning printing technology is also used by companies as diverse as OfficeMax, FedEx and Fargo. Browser-based software means lightening fast design. Our tools for beginning users include spell check, automatic word wrap with shrink-to-fit / enlarge to fit, vertical alignment of text, searchable clip art library. If you need a special numbering scheme, we can handle this easily. Our routines import your database and automatically print out even random numbering schemes.
5.
Delivery Quickly and Track Your Order. Track your order as it marches through the factory or shipper. Reorders also are a snap. Customers keep on coming back. These one-to-one relationships build value through each order. We gain a lifetime of loyalty, and you gain an economic partner for your asset tag and label needs. Although most orders ship in 5-7 days, we invite you to call if you need your asset tags faster. In most cases, our customer service team can get your asset tag order shipped in a day or two.
6.
Keep Costs Low. Our focus on streamlined online ordering, together with links to the factory floor, mean that we can offer terrific pricing and service.
Your fixed assets have never been more important – and have never been harder to manage. Assets are bought, reassigned, upgraded, put into retirement, sent out for maintenance and even loaned.
Our mission is simple: use streamlined online software to order asset tags that keep you in control. Let us take the guesswork out of ordering asset tags.